Best Communications 2022: new report analyzes society's top debates
New UNICEPTA insights report on Germany's most significant public discourse
Which companies communicate convincingly in the current public discourse? A new study identifies the most relevant topics in our society and shows which companies stand out as thought leaders in these areas.

Whether it's Sustainability, Digitization, Diversity, New Work or the Future Viability of companies - the new report analyzes which companies in Germany are positioning themselves as pioneers. We share valuable insights on the communication of the top companies in Germany: Find out what impact communication has on the perception of stakeholders and who is Germany's Thought Leader 2022.
---
Insight report for download
UNICEPTA, one of the leading providers for media & marketing intelligence, has analyzed the media positioning of the 250 top-selling German companies on the topic of "Best communication on the top 5 social debates in 2022". In total, analysts evaluated 37 million articles and postings with a total of more than 187 million digital user responses in the period March 2021 to February 2022:
Which companies have managed to position themselves visibly and with a positive tonality on all five topics?
Which companies are also convincing with high user reactions?
At which company is a strong communication success visible behind the successful positioning?
How are the companies perceived in the eye of the public?
Please fill out the form to receive your free download by return email. Fields marked with an * are required.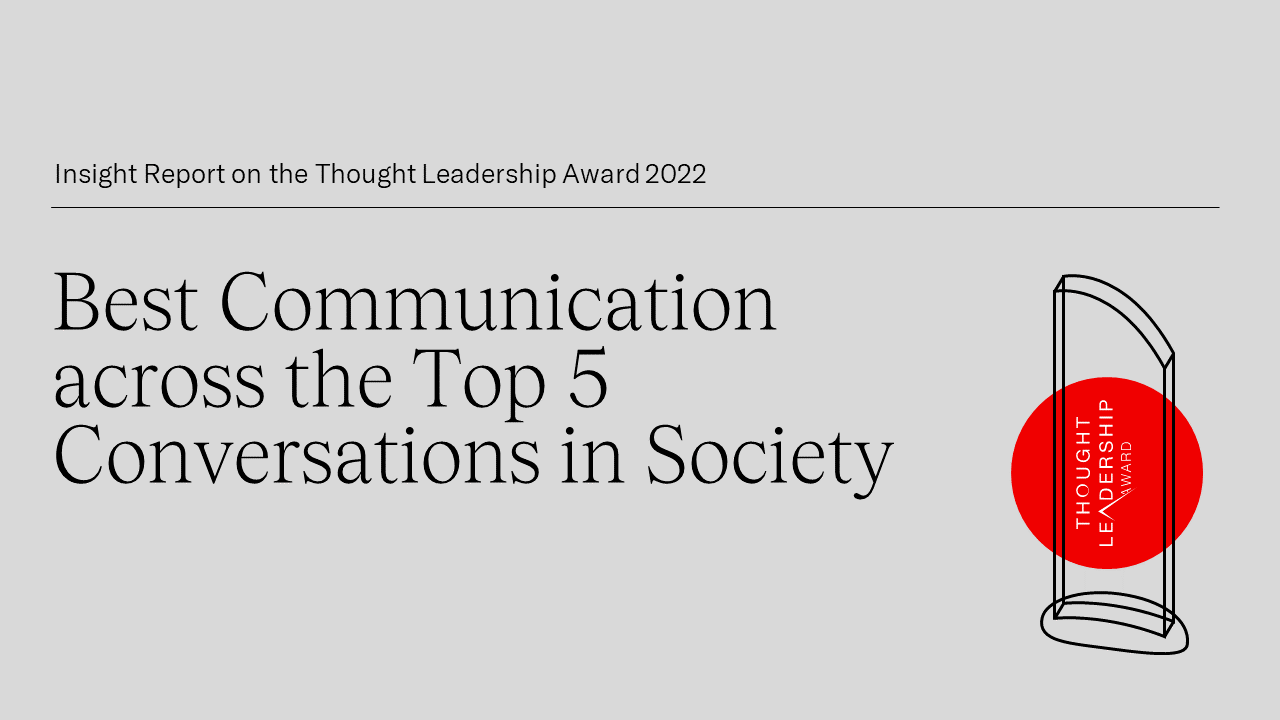 ---
Award winner 2022: Siemens
For the 7th time, UNICEPTA recognizes the best communication achievement of the past year with the Thought Leadership Award. This year's topic: Best communication on the top 5 social debates 2022.

The award is given to the company that has impressed with the best communication on Digitalization, Diversity, Green Sustainability, New Work and Future Viability and has positioned itself as a pioneer on these topics. Siemens has positioned itself excellently in the five most important social debates.

This is shown by UNICEPTA's analysis in terms of media visibility, user responses generated, as well as in terms of tonality, relevance of content, and use of owned channels.
Over the past twelve months, Siemens has made gains in terms of visibility in media debates, tonality, and the number of user reactions across all these topics.
The analysis reveals a very strong impact particularly with regards to topics of Green Sustainability and New Work.
On owned media channels, Siemens constantly communicates along the five megatopics and skillfully links them to its own capabilities in the area of Digitization.

Click here to read the press release on the Thought Leadership Award 2022.
---
ABOUT THE THOUGHT LEADERSHIP AWARD
About the Thought Leadership Award
UNICEPTA and the German Public Relations Society (DPRG) has been handing out the Thought Leadership Award annually, since 2016. The Award honors outstanding communication achievements on topics of particular social relevance on the basis of a multi-stage, cross-media analysis.
Previous winners of the Thought Leadership Award include:
2021: SAP for the best communication across the top 5 conversations in society
2020: Covestro and KfW for the best communication in the fight against climate crisis
2019: Infineon for the best communication on the future viability of German companies
2018: Bosch for the best communication with the highest impact in the digital sphere
2017: Deutsche Telekom for the best communication in the era of digitalisation
2016: Kuka for the best communication of the mega-topic digitalisation